HiTech Medical Store Accounting, Billing Software
---
List of Suppliers
Supplier List, Supplier Module, Editing Supplier Record
trspl.bmp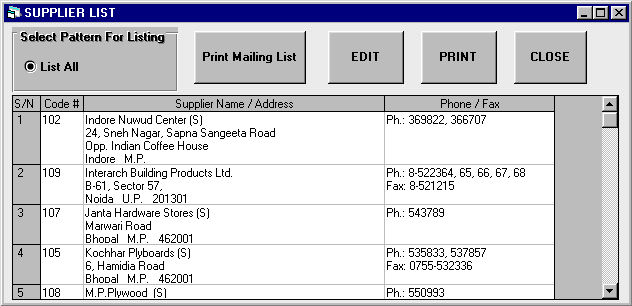 Supplier List;Supplier Module; Editing Supplier Record - Accounting Package For Medical Stores, Medicine Dealers Accounting Software, Medical Store Software - Hospital Supplier Accounting Software, Medical Shop Management Software, Billing, Invoicing, Inventory Control and Accounting Software for Medicine Dealers, Stockists, Medical Stores, hospital suppliers. Modules :Customers, Suppliers, Products, Sales, Purchase, Accounts & Utilities. Free Trial Download. Hotel Management Software, Hotel Software, Accounting Software for Hotels, Billing and Accounting Software for management of Hotels, Restaurants, Motels, Guest Houses. Modules : Rooms, Visitors, Restaurant, Payroll, Accounts & Utilities. Free Trial Download.
Supplier List is the alphabetical list of the suppliers in the supplier database. It displays names, addresses and phone / fax numbers of the suppliers.
To prepare list of all suppliers press option button
List All.
To print the Mailing Address of the suppliers click on
Print Mailing List
command button. The address list of all suppliers will be printed.
Editing Records From Supplier List:
To edit any record shown in the supplier list first click the desired name in the supplier list or bring focus to the right name using the cursor and tab keys. When the supplier record you want to edit is in focus press
Edit.
command button. The supplier record will be displayed in Customer Record Form. You can edit the this record move to other records and edit or delete them as you desire. When you press
Close.
command button the program will return you to the supplier list. If you want to see the effect of editing in the supplier list immediately then press option Button
List All.
or choose appropriate option.
The above feature is useful when some selected records from the supplier list are to be edited.
To close this report press command button
Close.
To see help on printing the report please refer to :
Print Using Hitech Print Engine
.