HiTech Medical Store Accounting, Billing Software
---
Product Location Transfer Memo
trpsltm.bmp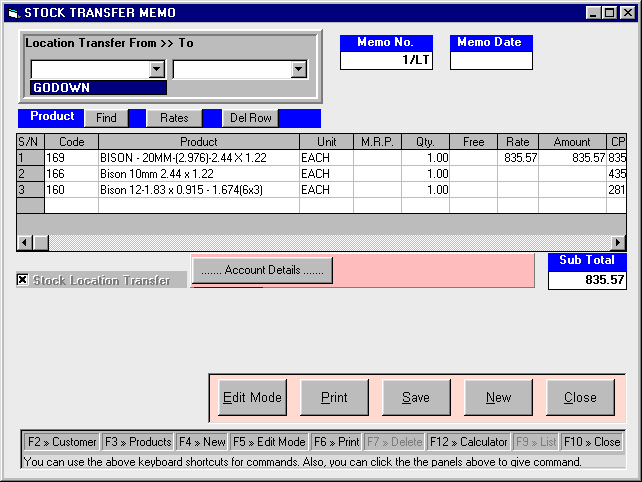 Product Location Transfer Memo - Accounting Package For Medical Stores, Medicine Dealers Accounting Software, Medical Store Software - Inventory Systems, Inventory software, Accounting software, Project Management, Inventory control POS software with accounting and enterprise resource planning system for trade, business and industry. Order Processing, Billing; Inventory Labels with barcodes support; Barcode scanning software. Accounting Software Development and Website Development, Web or PC based Accounting software for many business segments, customized software, e-commerce sites and inventory control applications for traders, dealers, distributors of consumer, medical goods.
When some stock has to be transferred from one location to another then
Product Location transfer Memo
has to prepared. To prepare Product Location Transfer Memo give menu command
Product Location Transfer Memo.
Memo Window will open for Location Transfer. You will see a read only check box marked Stock Location Transfer.
The appropriate memo number will be selected automatically. Suffix /LT will be added to this number to denote that this is a Stock Location Transfer Memo. The window will have heading : Stock Location Transfer Memo.
To select the location of products, two drop down list boxes are given in memo. You can select the location
From
which product has to be transferred by the first location drop down list box and by the second location drop down list box, select the location
To
which product has to be transferred.
To select product names in the memo is also very easy. You can type product code in column 1 of the grid (item code) or first part of the name of the product in the column 2 of the grid (product). The product name, M.R.P., Rates will appear in the memo when you press tab for making the next entry. If the code or name you typed in the columns do not match with any of the product then the product list will be automatically displayed. You can also press command button
Products List
or double click the grid in col 1 or 2 to display the
List of Products
You can select multiple products by tagging them and specify their quantity in this list easily. Press command button
OK.
All the selected products and quantities with other details will appear in the memo. The sub total will be calculated as per the rates and amount will be calculated. You can change any of the value which is entered in the product grid like quantity or rate.
To delete any row from the list shown in grid, first bring focus on that row by clicking with the mouse or by Tab or Shift + Tab key of keyboard, then press command button
Del Row.
A confirmation message will be displayed to ask from user "Do You Want To Delete the Row # ?", if you answer Yes then the focused row will be deleted or if you do not want to delete the selected row then press No.
When you have finished making entries then press command button
New
on the
Memo Command Button Group / Panel
to save this memo and go on to make new memo. You will asked whether you want to save the memo. Answer Yes if you want to do so. The memo will be saved and new memo will be displayed.
When a product transferred from one location to another, it appears in new location with new product code and transferred quantities.
If you want to make no more memos press command button
CLOSE.
You will be asked if you want to save the memo. After your response the memo entry window will close and you will return to main program window.
Stock Location Transfer when they are saved are not posted in the ledger. They only update the stock.
As long as the memo entry window is displayed you can do nothing else but making the memo entry. The main menu will become accessible only when you close the memo entry window.
To see help on printing the memo please refer to :
Printing Using Hitech Print Engine
.